Clips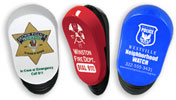 Crickit™ Clips
High intensity magnet clip that also grips to any slick surface - stainless steel, aluminum, glass, mirrors & more! Features non-adhesive Mungo Grip™ backing!

Full Color Magnet Clips
High intensity magnet clips with full color printing!
Gator Clips™
The original high intensity magnet clip. Don't accept anything less than a Gator™ - if it's not a Gator™, it's a croc!