Our Power Pack!" is a full color printed card (both sides) and is completely customizable for no extra art charge. The card and its Bent Pens and Gator Clip!" are enclosed in a sealed cello bag. Direct mailing, perforations and personalization are all available with Power Packs!".
Power Packs!" are mail-ready. You can mail them, or we will be glad to mail them for you. All our direct mail pieces are available with perforations and variable data printing for address cards, personalized greetings, coupons and a variety of other promotional uses.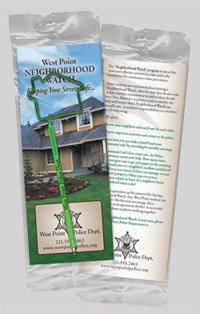 Customize-it Items
(built to order with your imprint or art, larger quantities)
Normal Production Time: 2 weeks upon approval of art.
Freight: Ex Works/F.O.B. Indianapolis, IN.
Minimum Quantity: 250 pieces per order
Less than Minimum Charge: $25.00
Standard Packaging: One card and one pen in a sealed cello-bag (bulk packed).
Set-Up Charges:
Bent Pens - $45.00 per imprint set up charge
Power Pack!" Card - $45.00 set up charge
Pricing:
Add $.60 to the cost of each item being inserted
(includes backer card and cello wrap for Gator Clips™ or Bent Pens)
Extra Options:
Perforated Fold-Over Card (3.5" x 3.5" with Bent Pen): $.12 each
Perforated Fold-Over Card (3.5" x 5.25" with Gator Clip™): $.12 each
Variable Data* (Gator Clips™ and Bent Pens): $.12 per block
Additonal Perforation (Gator Clips™ and Bent Pens): $.08 each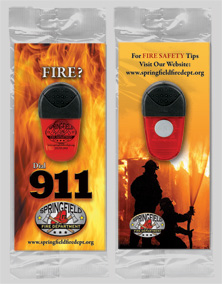 Variable Data Info:
What is Variable Data?

Variable Data is printed information that is unique to each individual item. For instance, if each card will have a different postage address, Variable data will be used to print the addresses on each card. Other possibile applications are personalized names or messages, raffle ticket numbers and coupon codes that are unique to every card.

How do I send Variable Data?

The most common format is an Excel spreadsheet file. For best results, be sure the address information is in separate columns such as company, contact name, street address, city, state and zip. We can also take clean tab-delimited text files, or any other delimited file that we're able to translate.

Why are printing colors limited?

Because Variable Data is over-printed on the rest of the card imprint, it's usually best to make any variable text black. Any other color(s) may be used if the background behind the text is white. Other combinations may cause unexpected results. For instance, printing blue variable text over a yellow background will cause the text to have a green-ish tint.