Business Cards (10 pt)
Make a first and lasting impression with FULL COLOR business cards from PoliceandFireINK.com! Available as two sided paper cards or magnetic cards.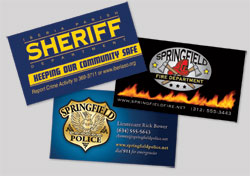 Customize-it Items
(built to order with your imprint or art, larger quantities)
We'll design a custom card especially for you... NO EXTRA CHARGE! You can send us or e-mail us your logo, photos, whatever!
NOTE: Price below includes initial proof and one revision. ($10 fee for each additional proof/revision)
| Quantity: | 250-499 | 500-999 | 1,000+ |
| --- | --- | --- | --- |
| Price Each: | $0.34 | $0.25 | $0.20 |